The Department of English Philology (originally called the English Department) traces its roots to 1971, when the Faculty of Philology of what was then Vasyl Stefanyk State Pedagogical Institute of Ivano-Frankivsk launched a teacher-training programme in English Language and Literature. Two years later, the programme evolved into an independent department, named the English Department, pursuant to Order No.160 of the Ministry of Education (effective from 5 June 1973).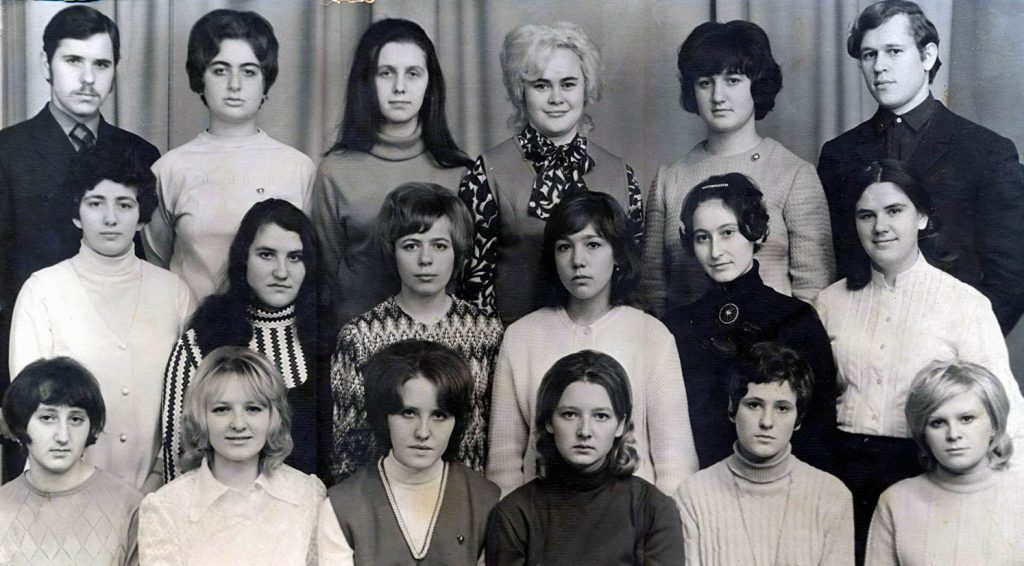 The first graduates of the specialty "English language and literature".  
(1975)
Since 2006, the Department has been headed by Yakiv Bystrov, Doctor of Philology, Professor.
Today, the Department has a highly qualified teaching staff, with 30 PhDs and more than 10 PhD students pursuing research in philology.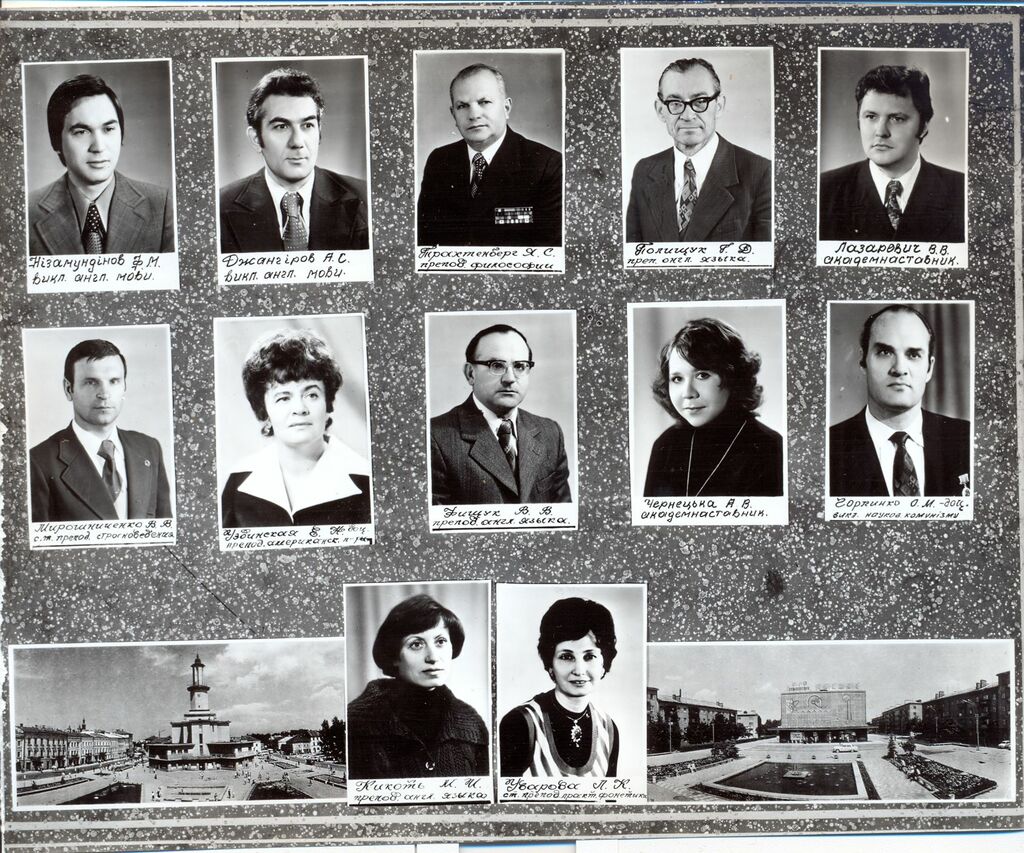 Our most notable alumni include Alla Pass, a correspondent for the TSN (national television channel) programme at Studio 1+1; Lidiya Wukowits (Kozakevych), PhD, English Language Instructor at the Federal Institute for Social Pedagogy (Bundesinstitut für Sozialpädagogik) in Baden (Austria); Oksana Moroz, Teaching Associate at Indiana University of Pennsylvania (USA), Oksana Vorobel, Professor at the Borough of Manhattan Community College, City University of New York USA), Nataliia Semchuk, HR-manager Sopra Steria (Poland), and many others.
The Department has a long-established practice of inviting eminent experts in the English language, ESL teaching methodology, literary criticism and translation studies: the Fulbright fellows Valery Shekhter (2000–2001), Olena Satsiuk (2005), Stephanie Latkovski (2006–2007), Martha Kuchar (2010), Jonathan Holland (2011), Andrea Weyneth (2019–2020); the US Peace Corps volunteers Grace Rivera (2006), Molly Smith (2010), Thomas Barefoot (2016–2017); Paul Vickers, PhD in Cultural Studies (UK); and Kate Mueller, Master of Education in Second Languages and Cultures, an ESL online Instructor (USA) (2022–2023).
A significant milestone in the Department's history was its participation in the intercultural project "The Theory and Practice of Intercultural Communication" in cooperation with the Faculty of Philology of the Jagiellonian University (Krakow, Republic of Poland). This cooperation resulted in the collective monograph "Developing Intercultural Competence through English: Focus on Ukrainian and Polish Cultures" (Jagiellonian University Press, 2011) prepared by the teaching staff and the students of the two English university departments and edited by Anna Niżegorodcew, Marcin Kleban and Yakiv Bystrov.
The teaching staff advance their professional expertise through participating in research conferences and exchange programmes, both nationally and internationally. Оlga Kulchytska, Lesya Ikalyuk and Nataliya Gontarenko are members of the Ukrainian Fulbright Association. From 2013 to 2019, Іhor Romanyshyn coordinated the cooperation between the Department and the British Council. In 2012, Yakiv Bystrov was selected as a visiting scholar under the auspices of the Cambridge Colleges' Hospitality Scheme in Cambridge (UK). In 2015, Nataliia Goshylyk won a scholarship from the European Union's Erasmus Mundus Programme to pursue research at the University of Graz (Austria), and since 2019 she has been a regional coordinator of the project "Learn to Discern: Media and Information Literacy" implemented by the International Research and Exchanges Board (IREX). In 2019, Yakiv Bystrov was awarded a Paul Celan Fellowship to conduct research at the Institute for Human Sciences (Institut für die Wissenschaften vom Menschen) in Vienna (Austria). Since 2019, the teaching staff of the Department have participated in the project Erasmus+ KA2 "Foreign Language Teacher Training Capacity Development as a Way to Ukraine's Multilingual Education and European Integration /MultiEd".
The Department of English Philology offers two educational programmes: Secondary Education (B.A.study) and Philology (B.A./M.A. study). Every year, approximately 200 students graduate from these programmes with bachelor's degrees and nearly 100 students with master's degrees.
The B.A. in Secondary Education programme is available in two specializations:
Secondary Education (English and French Language and Literature)
Secondary Education (English and German Language and Literature)
This programme trains students for the teaching of English and German/French at the secondary school level. It also offers teaching internship in local secondary schools.
The B.A./M.A. in Philology programme includes three combined specialization options:
Philology (English and French Language and Literature, Translation)
Philology (English and German Language and Literature, Translation)
Philology (English and Chinese Language and Literature, Translation)
These programmes are designed for students with an interest in teaching, linguistic research and translation. Students receive a comprehensive grounding in phonetics, grammar, lexicology, language typology, historical linguistics, second language acquisition, language teaching methodology, translation studies, contemporary linguistic theories, etc.
Our talented students have a good track record of winning Ukrainian national awards for student research papers in Germanic languages and translation.
Our graduates find employment in a host of interesting career fields: education, research, publishing and translation, industry, advertising, public administration, etc.