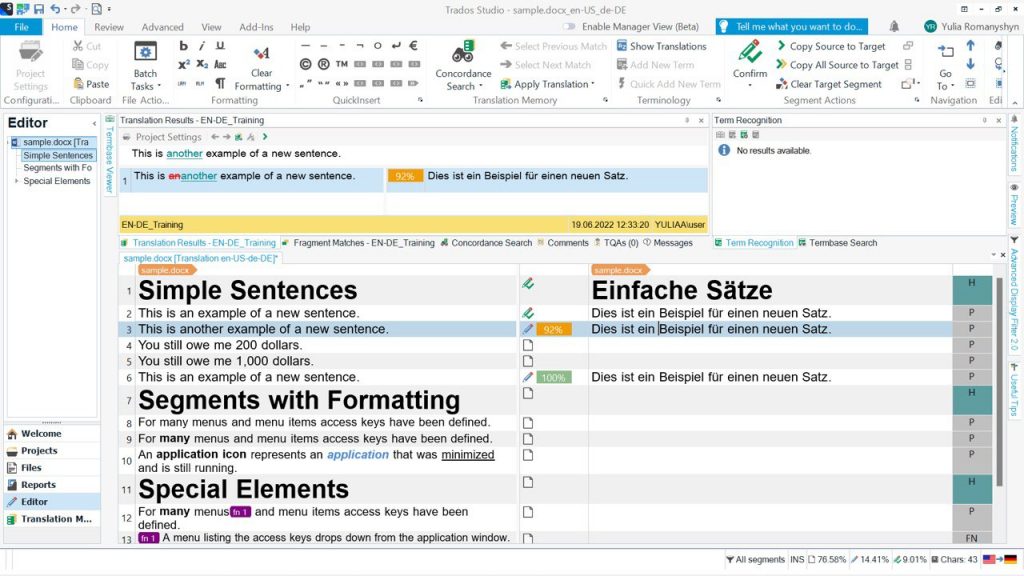 During the spring semester 2022 first-year master's students within the "Practical Translation" course had an opportunity to receive training in CAT tools from the leading developer of digital solutions for translators RWS Trados Studio. During the course, students both learned to use licensed software, and received a free training developed by RWS Trados Studio. Those students who passed the final test received official certificates of completion from the developer which is going to be beneficial for their future careers as translators.
English Language and Literature students have been participating in the project for five years already. They can receive their certificates thanks to the participation of the Department of English Philology in the CAT for Grad project from Translatel company and specifically personal support from the national supervisor of the project Oleksandr Bondarenko.
This year thanks to the academic partnership of the department with RWS, students Yuliia Lesiv and Yuliia Romanyshyn received Top Student Awards, and for their accomplishments during the training and the use of digital solutions in translation they received FREE perpetual licences for Trados Studio 2022 for their personal use from RWS.
We had an opportunity to work with the world-known system Trados Studio, tried different functions to create high-quality computer-assisted translation in practice and received certificates from the developer… I am really grateful for this opportunity to participate in RWS Top Student Award Programme and to have received the award and a perpetual licence for SDL Trados Studio. The skills and experience we have received will be a great advantage and asset for our future work as translators, and a solid beginning of our careers. – Yuliia Romanyshyn
Translation is not just a qualification in your diploma. First of all, a translator must be a language professional who speaks two or more languages and can easily switch between simultaneous and consecutive interpreting, between localisation and computer-aided translation. That is why CAT Tools are becoming more and more popular now… One of the biggest advantages of the software was the function of a more predictable translation, because it helps us to make our translation more consistent, and makes it much easier to search for the right term. This course has also given us new opportunities to find a job in translation. Thanks to the Trados certificate I have already received my first order for the translation with this software, as most clients prefer working with Trados. – Yuliia Lesiv
The Department of English Philology would like to express our gratitude to Translatel company, personally to Oleksandr Bondarenko and RWS for the opportunity for our students to participate in the project and for constant support during the years the project has been implemented.